Fatheadz Extra Large Reading Glasses for Men
Fatheadz Reading Glasses
It is often difficult for people with fat heads to find comfortable reading glasses. The temples can squeeze the sides of your head, and the nose pads can pinch the bridge of your nose. Sometimes the bottom of the lenses can cause annoyance and irritation when it rubs against your cheeks. Why is this a problem at all? Most eyeglass frame manufacturers do not make very large frames for men. Eyeglass manufacturers are keen to design frames for common face shapes and head sizes. If you are a large man and outside this range, it will take a bit of work to find the right Fatheadz reading glasses. Since you wear glasses every day, it is important that they feel good. So how can a person with a big head find the right reading glasses?
Measure yourself for Fatheadz Readers
You can take a few simple measurements to figure out which frame size you need. Here's what to measure before purchasing extra-large reading glasses for men:
1.Lens Width
As you might expect, lens width is simply the horizontal distance between the lens edges. The simplest way to find this measurement is to look at old glasses that fit comfortably. Three numbers will be printed on one of the temple's arms, for example, 49 21 145. The first number is the width of the lens in millimeters. Usually, glasses that fit the width of your face should have wide enough lenses wide for you.
2.Head Width
Accurate measurement is critical to finding reading glasses that fit a large head. Do you have old comfortable glasses? Measure the distance from temple to temple to get this number. If you don't have old glasses, take the same measurement on your face. A size over 5.5 inches means you should buy extra-large reading glasses with wide or large frames.
3.Bridge Distance
Bridge distance is the inside distance between one lens and the other. This is a very important measurement because the wrong size bridge can make your new cool glasses a nuisance. A large bridge will allow the frames to slide off your nose, while a small bridge can pinch your nose and make your glasses sit too high on your face. Once again, the quick way to measure the bridge distance is to consult a pair of your old glasses (in this case, the second number is the distance between the bridges). If you don't have glasses on hand, you can stand in front of a mirror and measure your bridge with a ruler. Frames with adjustable nose pads are great because they can be adjusted to fit your particular bridge size.
4.Temple Length
Temples that are too short for your head will result in a snug fit, while a temple arm that is too long will cause the glasses to slip off your face. How to determine the length of the temples? The third number printed on the temple arm will give the temple size in millimeters. As a last resort (no pun intended), you can use a tape measure or ruler to determine the approximate distance between the back of your ear and your face front.
If you don't have old reading glasses to consult, it is best to make an appointment with an optometrist so that he can take accurate measurements for your Fatheadz reading glasses.
Extra-Large Reading Glasses
There are many glasses available, but not all are available in larger sizes. As someone with a large noggin, you should pay close attention to the sizes available when looking at your glasses. Glazzers makes this especially easy with our size dropdown menu.
Some brands, like Fatheadz, cater exclusively to people with bigger-than-normal heads. The fact is that there are many options for glasses.
Fatheadz offers a number of things that make them an attractive company for those looking for extra-large reading glasses. In addition to the color, width, and style options, those who take on a pair will also get an original Fatheadz case to protect their reading glasses while not in use. For customers' safety, each lens provides blue light protection to prevent harmful rays from everyday devices like your mobile phone or TV from damaging your eyes.
A good fit is very important to you, but it's not the only thing that matters while purchasing new glasses. You will want to see how the wide frames will look on your face. Through some great tools, it can make it easy to view multiple frames without leaving your chair.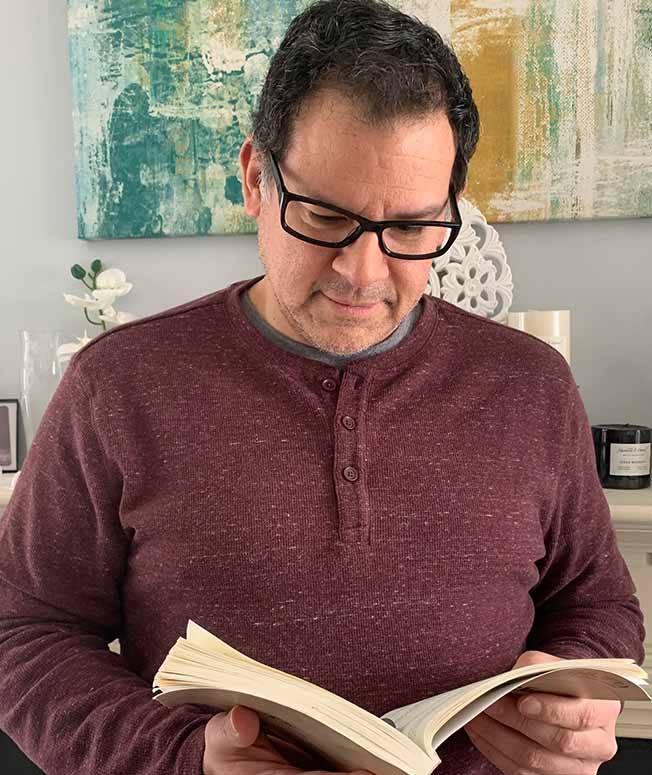 Fatheadz Readers for Men
What if you are anxiously unpacking your new extra-large reading glasses, trying them on, and thinking, "Is there something wrong?" Do not panic! It is not uncommon for glasses to require adjustment for optimal fit, even if the frames are the ideal size. This is because our facial features are unique. At Glazzers, we insert lenses with reading power with your custom Pupillary Distance (PD). You can choose between blue-blocking, photochromic (clear to dark), progressive reading lenses, or reading sun lenses.
Buying glasses when you have a big head takes extra effort, but make sure you buy the frames you like. Glazzers offers oversized reading glasses. You will find a variety of styles and colors available. Hopefully, this gives you a few places to start looking. If none of this works, let us know, and we'll suggest a few more. Perhaps some of our readers will share their favorite places to buy big head glasses in the comments below.
Men with large domes unite!
No more marks on the sides of your head. Most over-the-counter reading glasses end up breaking within a few weeks, as they're usually pretty cheap. Chuck them and move on! However, why would anyone pay more for reading glasses when they can buy them at the drug store? It's because you can beat up on Fatheadz readers since they're built of quality acetate plastic and metal. You won't find these extra wide readers at your local pharmacy. Click here to order your XL reading glasses today for your XL melon today!